Hello, folks, Phenny the Phoenix here, reporting on the results for Havok's Season Six: Casting Call contest!
These stories passed the Great Audition of our daily publication, impressing our editors with their stunning renditions of memorable characters. Then, after duking it out with other fabulous stories in the wings, they took center stage and garnered the approval of Havok's savvy anthology selection judges.
And the WINNERS ARE…
July – Ruler / Rebel

The Moon Duchess / Sheri Yutzy
Tomorrow / Katie Hanna
A Handful of Twigs / Cortney Manning
Iron Hood / Meaghan E. Ward
Fines and Flames / Cassandra Hamm
August – Hero / Magician
The Wandmaker's Offer / Yaasha Moriah
The Illusionist / Cortney Manning
Shiner / J. L. Ender
The Skinwalker / A. C. Williams
The Bodies in Question / Michael Teasdale
September – Creator / Explorer
The Path Home / Nathan Veyon
The Watchman / Hannah Robinson
Dust to Dust / Lincoln Reed
All I Did Was Science / K. H. Marah
A Spoonful of Doom / Julia Skinner
October – Everyman / Jester

The Fears / Anna Augustine
Jester's Maze / Lincoln Reed
Words to Live By / Jim Doran
Going Native / Joseph Sidari
Human's Advocate / M.A.E.
November – Caregiver / Lover

Gone Fishin' / Emily Barnett
Bridge Vigil / Rose Q. Addams
Save the Cat / Lincoln Reed
The Good Boy / Michael Teasdale
Four Wizards and a Funeral / Katie Hanna
December – Innocent / Sage

Dandelion Wishes / Hailey Huntington
Dark Side of the Moon / Lincoln Reed
The Nightmare Hunters Before Christmas / Hannah Carter
To Fight and Fly / Crystal Grant
I'll Explain Later / M.A.E.
Congratulations, authors! We are so proud of you and your stories!
---
Celebrate with cool swag!
Back by popular demand, you can purchase a Season Six: Casting Call t-shirt through April 8th!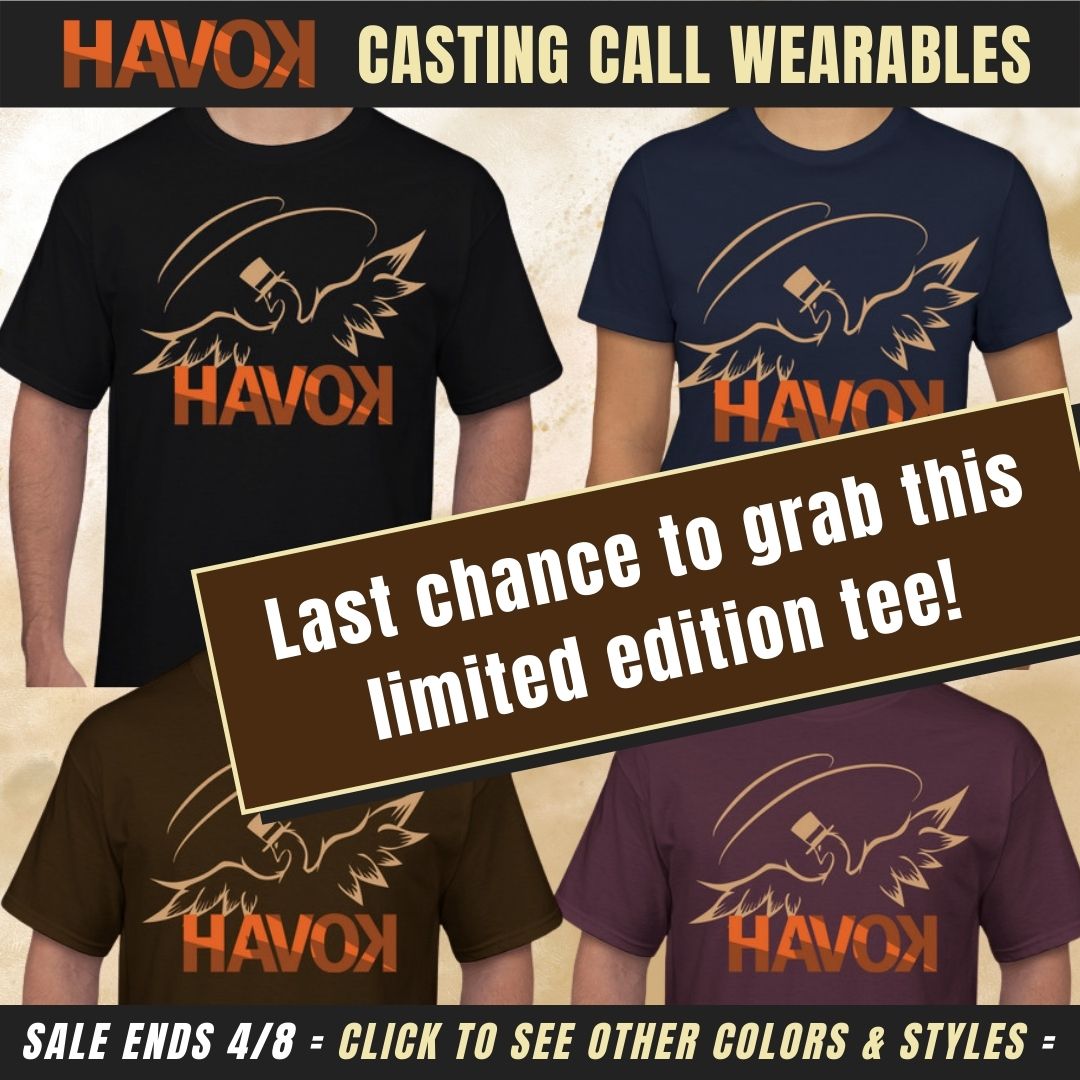 UPCOMING CASTING CALL EVENTS
Tue, April 5 – Cover reveal!
Fri, April 22 – Launch party!