Special Prismatic Contest: Flash Peek Shares
THIS CONTEST FOR READERS & AUTHORS ALIKE.
NO MEMBERSHIP REQUIRED TO WIN.

During our seasonal "flash peek" we open our website to the public (including all five seasons of Havok flash fiction, over 600 stories). The Prismatic event is July 2-4. This gives our authors another chance to share their story and gives readers around the world a peek at the glorious collection of flash fiction in our members-only vault. You can help us spread the word!
Here's how this contest works:
We'll post flash peek promo graphics every day (sometimes more than one a day) between now and the event opening (Friday, July 2 @ 6pm Central).
You share at least 5 graphics between June 26 and the event opening.
Shares must be to your main social feed and remain up until the end of the event (Sunday, July 4 @ 10pm Central).
Story shares count!
Direct message us when you have completed your 5th share, and we will verify your entry.

Messages will be accepted to @gohavok on Instagram, Facebook, Twitter, or via email to social@gohavok.com.
Messages must be received by 6pm Friday, July 2.
If you share to more than one platform, message us from each account for ease of verifying your entry.
Include which prize you prefer: an anthology ebook (choose from seasons 1-4) or a 6-month membership to Havok (includes access to the full private story collection, qualification for future prizes, and voting rights for Readers' Choice in each anthology).
Please include your email address with your entry message so we can send your reward!
Contest closes at 6pm Friday, July 2nd. Winners will be contacted and prizes delivered within the following week (the holiday weekend may be pretty crazy!).
BONUS ROUND: The person who shares the MOST promo graphics during this contest will receive a $25 Amazon gift card! Each individual graphic shared to Instagram, Facebook, or Twitter counts as one share. (Duplicates fine within reason. Sharing the same graphic to all three platforms = 3 shares. Sharing the same graphic to the same platform 3 times in one hour is only one share… but if you share the same graphic to the same platform 3 times across 3 days = 3 shares. Think like a marketer and you'll have the idea.)
Regular Season Contests
Havok publishes in seasons: January through June is the first season of the year, and July through December is the second. Each season brings with it the contests for readers. One caveat: to qualify for contest prizes you have to be a member of the Havok Horde. Memberships come with the ability to read ALL our stories and vote on them, and annual memberships are only $4.99.
Here are the current reader contests: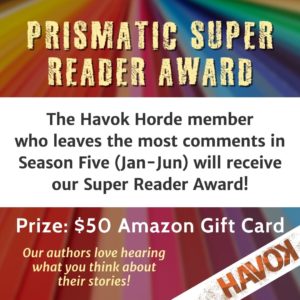 2. Super Reader Award
Each season we award a $50 Amazon gift card to the Reader who makes the most comments. Why? Because authors love to hear what you think about their stories, and we love our authors. What better way to support them than by leaving a comment? (Note: Contest for Havok members only. Become a member for only $4.99/yr.)