Season Contests
Havok publishes in seasons: January through June is the first season of the year, and July through December is the second. Each season brings with it the contests for readers. One caveat: to qualify for contest prizes you have to be a member of the Havok Horde. Memberships come with the ability to read ALL our stories and vote on them, and a 3-month memberships is only $1.99.
Here are the current reader contests: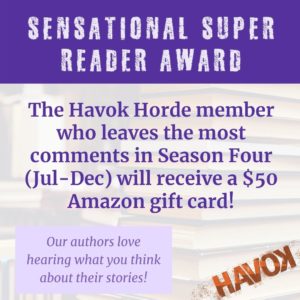 2. Super Reader Award
For Havok Season Four: Sensational, we're awarding a $50 Amazon gift card to the Reader who makes the most comments. Why? Because authors love to hear what you think about their stories, and we love our authors. What better way to support them than by leaving a comment?
PRISMATIC Contest info coming soon!