Regular Season Contests
Havok publishes in seasons (see our Submission Guidelines and Season Themes). January through June is the first season of the year, and July through December is the second. Each season brings with it the following contests for writers:
Publication
Being selected for publication is a contest of its own. Our editors read hundreds of stories each season and select the best among them for publication. We can't publish all of the excellent stories that are submitted to us, so if your story has been accepted for publication, give yourself a pat on the back!
Anthology Selection
For each calendar month, five anthology winners are selected—the best story from each of our daily genres as determined by our editorial staff. These are the stories that ultimately make it into that season's anthology. Anthology winners are announced at the completion of the season. Anthology winners receive a complimentary e-copy of the anthology and are paid for the publication of their story as dictated in their publishing contract.
Podcast Selection
Magnus Carlssen, our wonderful narrator, selects stories from each season to produce on the Havok Story Podcast. Podcast winners are selected based on their production and story value. For more information on story selection, read this interview with Magnus.
The Editors' Choice Award is given to the anthology story that our editors feel has that certain something… voice, story, presence, and sparkle. Editors' Choice Award winners receive a special mention in the season's anthology, a print and ebook copy of the anthology, and a $100 Amazon gift card.
The Readers' Choice Award is given to the story with the highest reader ranking (votes, shares, and comments) from our readers. The most loved story for the season (as indicated by our proprietary popularity calculations) wins a spot in our seasonal anthology, and the author wins a print and ebook copy of the anthology, and a $100 Amazon gift card.
New Contest: Most Prolific Author of the Year
Did you know? Havok has only been around (in this format) since January 2019. That's only four seasons (as of now). We just noticed (yeah, maybe it take a few seasons to realize, but cut us some slack!) that we have some authors who are racking up the numbers of published stories. (GOOD JOB, YO!) So we thought we should offer some official recognition to encourage this sort of behavior.
Guess what the Most Prolific Author of the Year wins?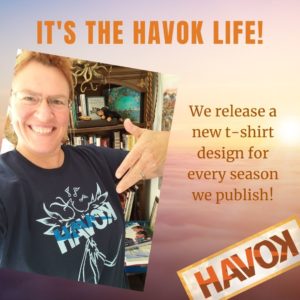 Yep! The author who publishes the MOST stories in 2022 wins a free t-shirt from our next t-shirt fundraiser! The winner will be announced in February 2023.
---
Special Opportunities
Havok loves to wreak goodwill and fun anyway and every way we can. Admittedly, our usual cycle of flash fiction publication and the on-going contests to win a place in our bi-annual anthologies is pretty exciting, but sometimes we shake it up even more. You'll find those Special Opportunities here, when they're available!
The Realm Awards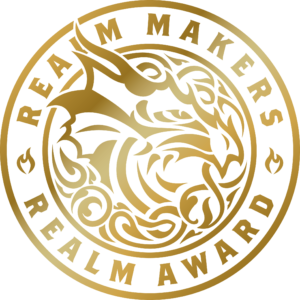 The Realm Awards are held each year at the Realm Makers writers conference, and they have a Short Story / Flash Fiction category. Submissions for this contest are expected to open Jan 1 and close Jan 21, midnight EST. See the Realm Awards site for details about prizes, qualifications, fees, and how to submit your story for consideration. This is an excellent chance to pursue adding "Award-Winning Author" to your bio!
If your story qualifies and you decide to enter the Realm Awards, it's important to submit the finalized story that we published (on our website or anthology). Use our Author Awards Support contact form to request a PDF copy for your submission.