Back in June 2019, we listed nine authors who had published with us three or more times throughout the first season after Havok's rebirth. I thought it was time to update that Most Prolific Authors post.
This Weekend Scoreboard is brought to you by Our Most Prolific Authors! Let's hear from them what motivates their writing and the stories you see here at Havok. To start us off, we have a three-way tie for 5TH PLACE. Each of these authors has written 8 stories for Havok!
---
5th PLACE
---
A. C. Williams – 8 stories across three genres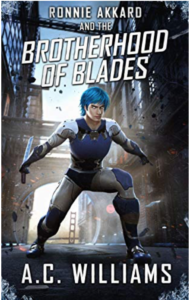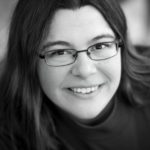 I write for Havok because Havok is awesome. In all seriousness, there aren't a lot of other opportunities that I've found with magazines accepting material on the scale that Havok is. Plus, I love the seasonal themes and the variety of genres. I write across multiple genres, so it's a nice chance for me to scratch my weird brain's itch for crime drama, murder mystery, or general wackiness. I also love flash fiction because it gives me a chance to FINISH something! I usually have several novels going at once, and while I love long-form fiction, there's something really satisfying about being able to write a complete story from start to finish in one sitting.
I make a living as a full-time writer so I write a little of everything, from devotional content to instruction manuals for lawnmowers, but my heart is in my fiction. I have 7 full-length novels currently available (space opera, women's fiction, and superhero adventure), and I'm currently working on a steampunk samurai novel and a paranormal comedy/mystery (think Cheers + Supernatural + Don Quixote). I'm also working on a really sappy holiday romance novel because some genres just sell.
I just released the first full-length novel in my samurai superhero adventure series, Ronnie Akkard & The Brotherhood of the Blades in March. Found family. Magic samurai armors that may or may not be sentient. And all the snark.
---
Stephanie Scissom – 8 stories across all genres but one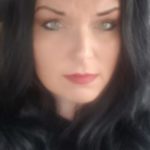 I love the challenge of writing flash fiction. Trying to convey a complete story within the confines of a tight word count can be daunting, but I believe it has taught me to be a better writer. It's easier to see what words really matter and which are superfluous. Flash takes you to the bones of what you are trying to say.
I write a mix of paranormal and horror, usually with a romantic element. My first published sales were romance, but that has changed over the years. I stopped writing for years when my husband died, and only resumed it a few years ago when my son had an accident and I was spending a lot of time at the hospital staring at walls between ICU visitation hours. He's fine now, thankfully, and I'm quite happy to be writing again. I'd missed it.
If you want to keep up with my current projects, you can follow me at www.facebook.com/stephaniescissom2019
---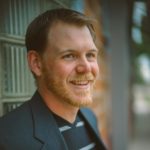 I love getting to create a snap shot of a larger world. Creating a full epic fantasy or Sci-fi world and story is a ton time and leg work, so writing a flash fiction piece is a fun chance to open up a window and play around in a different realm. I haven't been able to fill out any of the story worlds I've written for a flash fiction piece, but I have one or two stories I'd like to revisit in a future novel or flash story.
I'm currently editing a YA novel about telepaths that I'm hoping to send out to a publisher within the year. And like all writers, I have about 10 projects cooking on the back burner of my brain. The next project I'm going to dive into is a Steampunk novel. Another project is a galaxies-sprawling space opera with superhero elements. And I always seem to have at least three time travel stories cooking somewhere in the corners of my brain. I can't seem to write anything without speculative elements. I think I've written exactly one non-speculative piece in my years of writing stories.
---
4TH PLACE
---
Susan Lyttek – 13 stories from Mystery Monday, Wacky Wednesday, Thriller Thursday, and Fantasy Friday including several in a series of Mystery Monday detective tales featuring the same characters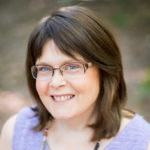 Havok is a fun community, and I enjoying reading the stories as much as I enjoy writing them. I liked Splickety and Havok magazines, too, so I've been around a while. I enjoy flash fiction because I have a short attention span. I think the longest I've ever worked on a single task is about 15 minutes. That makes short pieces easier to write and less stressful. I'll never stop writing books and longer things, too, but flash fiction acts as my breather.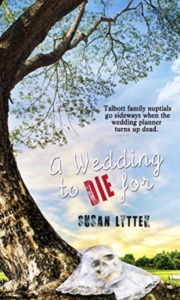 As for what else I write… Anything people will read! My resume looks like my attention span. I bounce from project to project and genre to genre. I'm currently trying to finish my six-book YA fantasy dinosaur series that I contracted for in the fall. I've also started an Isaiah devotional study, keep a weekly blog, and have a four-book mystery series out. I've also written everything from magazine articles to plays to children's humor.
My most recent release is A Wedding to Die For. It's even free on Kindle Unlimited!
---
3RD PLACE
---
J. L. Ender – 14 stories across all genres, and one of the reasons we created Staff Saturdays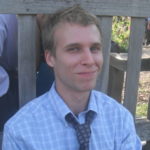 Part of the fun of flash fiction to me is the chance to experiment. I can try out a concept or character in a thousand words or less and see if I like it. Since I started writing flash, I've experimented with voice by writing as a narcissistic character (Stranded), I've tried out present tense (Hologram Heist), I've forced myself to use no fantastic or quirky elements (Mirrors), and I've tried out new worlds that could eventually become novels (The Drop, Blue Moon).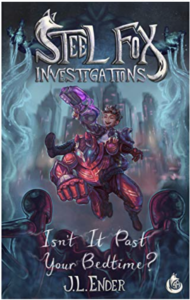 I think it's freeing to be able to create these little stories, and I appreciate Havok taking a chance on so many of my crazy ideas over the last year and a half. From a pun-hating octopus to a gun-toting dolphin, it's been a blast, and I hope we can keep collaborating for many years to come!
I've actually just launched a series called Steel Fox Investigations. It's a middle grade superhero mystery series. The first book Isn't It Past Your Bedtime? is available now on Amazon. If you want a sample, Havok has published a story in the same universe called Rule #1!
---
2ND PLACE
---
Zachary Holbrook – 16 stories in every genre except one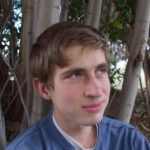 I write for Havok primarily because it's fun. New ideas bubble up from the back of my mind, eager to be implemented. Not all of them have a place in one of my novels, but with flash fiction, I can take one or two of these ideas and craft a complete story in a single day.
Usually, the process of waiting for a flash fiction idea to click into place takes longer than actually writing the story. Vague impressions sometimes float in my brain for months before crystalizing into story premises. My morning run is a great time for this to happen— sometimes I'll come up with a premise while running, settle on an opening line while in the shower, then gobble breakfast before sitting down to write.
The projects I've embarked on in my nascent career as a writer include book reviews, philosophical essays, and marketing emails. Currently, my most ambitious endeavor is The Lore of Yore, the first novel in an epic fantasy duology. It's also my first book set in the Domidium, a vast interconnected universe with a story arc spanning a hundred years and over a dozen novels. Read more about the Domidium or sign up for my newsletter at my website.
---
1ST PLACE
---
Abigail Falanga – 22 stories across all genres! Amazing!!!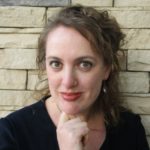 I write for Havok because it's a fun and ever-surprising venue, filled with such a wide variety of stories that I know even my strangest ideas can find a home there (and I have some pretty strange ideas!). The team is a joy to work with, answering my questions and concerns, suggesting brilliant changes to my work, and brutally editing where necessary.
Flash fiction is so addictive. Seriously, there's this rush you get when you finish a story—triumph and fatigue and the sheer exultation of only five hundred words to cut! It's also a fantastic way to either explore a story world without fully committing to it, or write one small idea in a genre I wouldn't normally explore.
I write novels—high fantasy, ghost stories and horror, urban fantasy, and science fiction including space opera and superhero. My novels-and-series-in-progress range from YA contemporary sci-fi, to high fantasy adventures, and beyond. I have a finished epic fantasy novel, currently out in queries. It's a traditional fairy tale, with a princess who fights against her own curse, a courageous peasant who goes on a quest, and an evil fairy godmother—plus dragons and monsters and bloody battles. This summer, I plan to self-publish "Radical Steps," the first in a series of fairytale retellings. And I'm launching a web-series about superheroes in the era of COVID19 called "Team P.A.N.D.E.M.I.C."
---
And *thank you, authors* for writing and submitting such great stories for our enjoyment!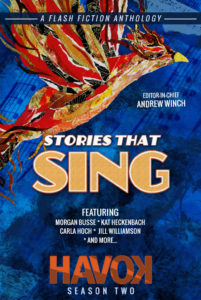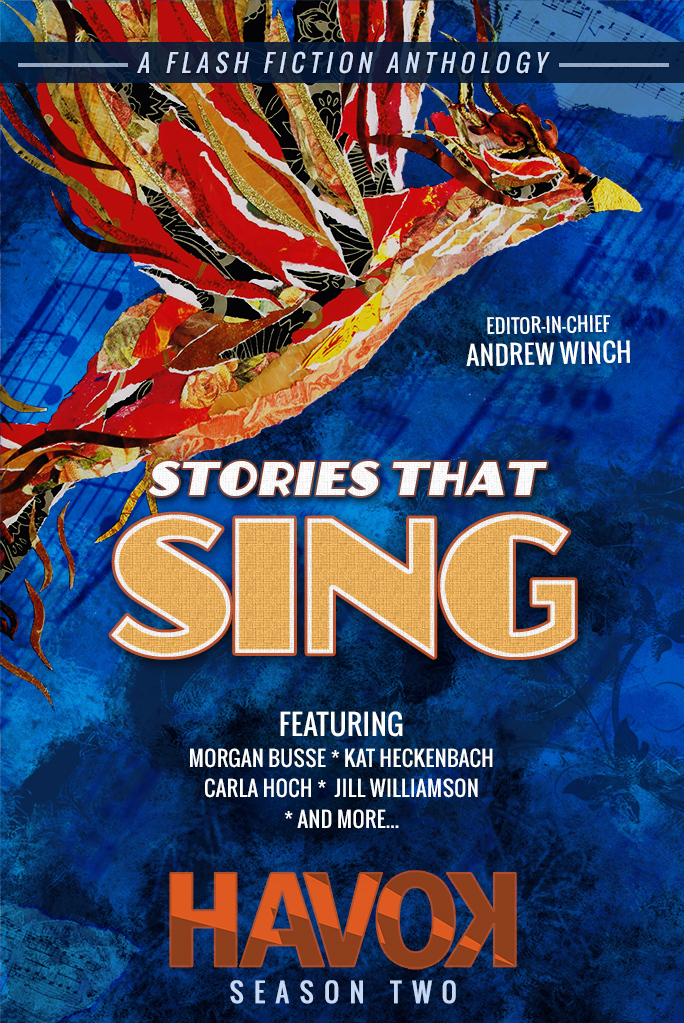 Did you know…
Abigail Falanga
Zachary Holbrook
J. L. Ender
Stephanie Scissom
A. C. Williams
…all have stories in our recently released Season Two: Stories That Sing anthology? Get your copy now at Amazon.com.