Morgan L. Busse is one of the sweetest and most humble authors you could ever meet. She's the author of the critically acclaimed Follower of the Word series, The Soul Chronicles, and award-winning Ravenwood Saga. Morgan is here today to talk about her latest release, the third and final book in her Ravenwood Saga: Cry of the Raven, which just released in February.  If you're looking for a clean fantasy romance, this is a great series for readers of all ages.
Give a hearty Havok welcome to Morgan!
---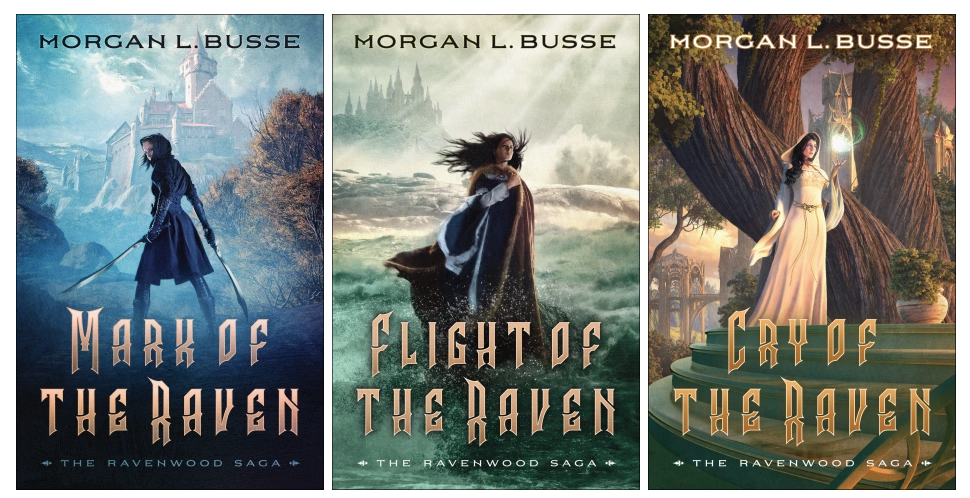 Lady Selene is the heir to the Great House of Ravenwood and the secret family gift of dreamwalking. As a dreamwalker, she can enter a person's dreams and manipulate their greatest fears or desires. For the last hundred years, the Ravenwood women have used their gift of dreaming for hire to gather information or to assassinate.
As she discovers her family's dark secret, Selene is torn between upholding her family's legacy–a legacy that supports her people–or seeking the true reason behind her family's gift.
Her dilemma comes to a head when she is tasked with assassinating the one man who can bring peace to the nations, but who will also bring about the downfall of her own house.
One path holds glory and power, and will solidify her position as Lady of Ravenwood. The other path holds shame and execution. Which will she choose? And is she willing to pay the price for the path chosen?
---
We asked Morgan where she got her inspiration for The Ravenwood Saga. Here's what she said:
All of my books start with a scene that I see in my head. For The Ravenwood series, I saw a young woman assassin standing over the bed of young man. I knew he was important, and I could tell she was hesitating to fulfill her mission. So I started asking who was she? How did she get to this point? Who was the young man? Why was he important? Why was there a target on his life? From that scene Selene's story grew into what it is today.
I also wanted to make it unique.There are a lot of assassin stories out there, so I brainstormed how I could make this one different. Then I thought, what if she had some other power? One of my favorite cartoons to watch with my kids is My Little Pony. The job of one of the royal sisters is to watch over the dreams of the other ponies at night. The moment I saw that episode, I knew what Selene's power was: to walk in dreams. But it had been corrupted, and her story would be her journey to bring her family's power back to what it was supposed to be: protecting the dreams of people.
---
Morgan's story "The Balloon Man" is one of the featured stories in our upcoming Stories That Sing anthology, releasing this month. We can't wait for you to read it!
Follow Morgan L. Busse on social media: Facebook | Instagram | Twitter
I love all the creativity that goes into flash fiction. It's like a getting a bag of Hershey miniature bars: lots of delicious little bites of chocolate but in story form.

~Morgan