We're another week closer to the release of our Season Two: Stories That Sing anthology. That means that it's time to introduce you to another of our Featured Authors!
Carla Hoch has studied a buffet of martial arts: hapkido-based self-defense (whatever that is), MMA, Muay Thai style kickboxing, taekwondo, street defense, Filipino martial arts, iaido and aikido. She's currently filling her plate with Brazilian jiu-jitsu with judo dressing.
She's small, but mighty. Not only will she fight you, she'll teach you how to protect yourself, and if you're a writer, she'll teach your characters how to kick butt as well.
What many may not realize is that Carla is a fantastic fiction writer as well, and we're excited to showcase her in our anthology. Hold on to your boots, put up your fists, and welcome Carla to Havok!
---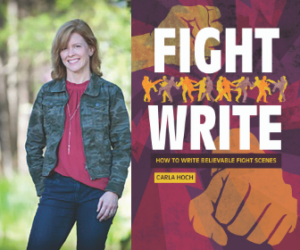 We asked Carla how her book, Fight Write: How to Write Believable Fight Scenes, came to be. Here's what she told us!
About nine years ago I was working on a book with fight scenes in it and didn't have the slightest idea of how to fight. So, I enrolled in a self-defense class. I figured I'd only need a couple lessons to learn all I needed to know. I mean, how hard could it be?
Turns out, fighting is pretty hard and ugly scary. I was too afraid to participate until the second class. And, boy, as soon as the instructor dismissed us, I hot-footed it out to my "mom-van," ugly-cried and swore I would never go back. Pretty sure I also just plain swore.
In the moments between me wiping tears off my face and starting my van, I came to the hard, cold realization that at 38 years old, I was still a scared kid. I had long since lived in an unsafe environment but, in my heart, I was still there. So, the next week, I went back to class.  And, I kept going back. Scared and anxious, I still went.
About a month into the class, I asked one of the massive and terrifying instructors if he would teach me to punch. He smiled, fitted his pain weathered glove on my hand, took me to a heavy bag and told me to give it a shot. I wound up "Looney Tunes" style, threw out my hand and missed. Yes, really.
The instructor smiled and patiently worked with me until I had thrown a basic, albeit unimpressive, jab. As soon as that straight punch reverberated up my arm, I was hooked. I've been punching things ever since.
Oh, by the way, I got those fight scenes written. I pitched the book to literary agent Steve Laube, owner of the Steve Laube Agency. (How I got that appointment is a whole other story!) He ultimately didn't go for the story but liked me. We got along well. I would see him all along at writing events and say, "When are you going to sign me?" He'd reply, "When are you going to write something?" I told him, more than once, that I would eventually write something super good so he better hitch his wagon to me before I became famous. It always made him laugh. If you don't know the rest of the story, remember that.
After several months, the self-defense class instructors suggested I try the MMA training class. I laughed and said I could never do that. I was too old, too small, and too out of shape.
So, I did the MMA class. I stayed in the program for three years, longer than any other woman. It was the gateway drug for me and martial arts. Since that class, I've studied ten different fighting styles.
A friend of mine, Ben Wolf, also a writer, knew of my punch-face exploits and suggested I be on a writers panel at the Realm Makers Writers Conference. I sat alongside for real, grown-up writers, and fielded questions about fight scenes. More often than not, the questions were about actual fighting rather than writing. I was able to answer the questions, and people learned my dirty secret: I knew how to beat stuff up.
The next year, the folks at Realm Makers asked if maybe I could critique some fight scenes on stage in front of all the conference attendees. Unbeknownst to them, I had been a high school teacher for years. Throw me up in front of a crowd that may end up hating me? Been there, did that for about a decade.
I critiqued some scenes and, with the help of Ben, demoed a few techniques. And, people liked it! Go figure. After the presentation, the folks at Quill Pen Editorial approached me about editing fight scenes for them. I about died! Before my first job with them, I sheepishly asked if they would send me business cards. And, y'all, they did. I literally cried when I opened the box.
The next year at Realm Makers, my trusty friend Ben assisted me in a presentation. This time it was just all fight technique and the writers seem to not only like it but need it. I did one-on-one mentoring as well and loved it. I wanted to do the same thing every day, year-round. That's when I got the idea for the blog FightWrite.net. I had no idea if people would read it. But, as the cornfield whispered to Costner, "If you build it, they will come." And, they did. In droves.
Three years into the blog I had the idea to write a book. And, about half way through the writing process I sent a proposal to Writer's Digest. An editor turned it down saying he had "done the comps" and there was no place for it with WD. I immediately emailed my friend Steve Laube. Remember him? The agent who turned me down? Through the years he had become a steadfast supporter of my insanity. I told him what the editor had said and that it didn't make sense. There was no way the editor could have done "comps." There was no book out there to compare with mine. Steve said to not worry about that guy and finish the book.
I did finish it. And, as I had done eight years earlier, pitched it to Steve. He again turned me down. He hated to do it. It wasn't a good time for him business-wise but he encouraged me to keep pitching it. And, I did. I emailed the WD acquisitions editor who turned me down and asked if I could send it to him again. I got a kick-back email reading that he was no longer with the company. With that message was a new email contact. I emailed the new person, said I had been discussing my book with the previous editor – not a lie! – and told her a bit about it.
After hitting send, I emailed Steve, told him what I had done and he laughed. He said I had chutzpah and I should just wait. Likely it would take six weeks for a response and, in reality, it was a shot in the dark. I told him I was fine with that. People get shot in the dark all the time.
Writer's Digest did get back to me but not in six weeks. It was six days. They were very interested in the book. I emailed Steve and asked if he had any interest in representing a Writer's Digest author. He did. And, now, here I am.
Here's what everyone can learn from this too long story: Don't give up. It's ok to be afraid. By definition to be brave you have to be afraid. If you don't have what it takes to do something, so what! Do it until you have what it takes. And, when it comes to shots in the dark, for Pete's sake, squeeze the trigger! That bullet will come to a stop at some point. Maybe it will hit home or hit the ground. You'll never know if you just let it sit in the chamber.
---
What an inspiring story, Carla. Not to mention that there's a FightWrite podcast now, too!
Follow Carla Hoch on social media: Facebook | Instagram | Twitter
I love flash fiction because it's a whole story in a small package and tougher than you'd think. Like me. ~Carla