We entered everyone with a correct guess (user name in parentheses) into a random drawing. The first Havok Horde member's name drawn won the $10 Amazon gift card for August.
This month's SUPER READER Award goes to Ayeser! Congratulations, you should receive your $10 Amazon gift card via email this weekend. If you don't, please leave us a comment.
Not a member yet? Join before the end of September to be eligible for the September-December drawings.
Now, here are the songs that inspired August's stories… All of them!
---
√ Muzzle by Abigail Falanga –I Love My Dog by Cat Stevens​ (lilakimswriter)
√ Fire and Stone by Zachary Holbrook – Puff, the Magic Dragon (EdwardSand)
√ Samara Spade and the Case of the Antelope Mickey by Susan Lyttek – The Lion Sleeps Tonight (Dalia Grigorescu)
√ Ruined Boys by Brianna Tibbetts – House of the Rising Sun (Steve Baker)
√ Old-Fashioned Letters by Dalia Grigorescu -Return to Sender (cyndylil)
√ Everyone's a Henry by Charles Frierman -I'm Henry the VIII I am by Hermans Hermits (Jacqueline Frierman)
Sold Out by Daria V. Diachkova – The City of Childhood (here's the video in Russian)
√ Here She Comes by Nicki Chapelway -Windy (R C)
√ Surf's Up by J. M. Cobb – Catch a Wave (SC Steamer) & Dance, Dance, Dance (EdwardSand)
√ Potato Panic by J. L. Ender – Octopus's Garden by the Beatles (cswatcher)
√ Made for Her by Katie Hauenstein – Hey Jude (Florid Sword)
√ Out of Her Skin by Jenelle Leanne Schmidt  – Bitter Green by Gordon Lightfoot (Nancy Walker)
√ The Game by C. S. Wachter – Sympathy for the Devil (Susan Lyttek)
√ Tea and Sugar by Camille Murray – Duke of Earl (LJ Skelton)
√ An Odd Awakening, Part II: Second Genesis by Nathan Conlon – Space Oddity by David Bowie (Ayeser) – our randomly draw winner. Congrats again!
Table for One by Joseph Sidari – Only the Lonely by Roy Orbison, 1960
√ The Untethering of Caroline Donadeiu by Sam Shaw – She's Not There by The Zombies (R C)
The Color of Thyme by Abigail Falanga – Incense and Peppermints by Strawberry Alarm Clock, 1967
Hologram Heist by J.L. Ender – Ain't That a Kick in the Head by Dean Martin
Apart by Samwise Graber – Ain't No Mountain High Enough
Déjà Vu by Alex McGilvery – Where or When by Dion and the Belmonts
√ Second Chances by Shiann Dawson – Ring of Fire (Jillian Ponchot)
---
Thanks for playing Season Two: Stories That Sing – 1960s Edition! From our jukebox to yours…
---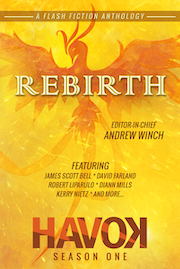 Don't forget our Season One: Rebirth anthology is available on Amazon. Read the 30 winning stories from Season One along with 16 exclusive Featured Author and staff stories!