We're pleased to welcome Jason Joyner to our collection–er, family of Havok featured authors! His story will be in the Prismatic anthology, planned for release in September this year. Read on to get to know this writer who "unleashes the truly heroic" in his books.
"Hello, there."
Howdy. I'm Jason, a physician assistant by day and author, reader, and lousy ping-pong player by night. It's awesome to be featured in Havok.
I'm a regular guy married to my lovely wife Beccy, with three boys and a girl that keep me on my toes. If I'm ever doomed and have one last meal, I would have grilled salmon, fried potatoes and onions, and a real Coke (because of my dad bod I'm drinking Coke Zero). I love a cup of hot black tea in the mornings. If I'm going to watch a repeat movie, I love the original Star Wars trilogy, Braveheart, Dead Poets Society, or Avengers: Infinity War. A surprising book that I've read several times is Angel Eyes by Shannon Dittemore.
Writing, and the return to Havok
I started writing stories in high school, but school and starting a family benched that idea for several years. Then after playing the Star Wars RPG Knights of the Old Republic, I learned about fan fiction. Friends playing the game were writing cool stories featuring the characters, so I tried my hand at it. I realized I still enjoyed writing and kept at it until I started attempting novels. It took me seven years to write my first novel and thirty days to write the second (thank you NaNoWriMo). Havok was my first publishing credit though, so I am thrilled to be working with Havok again.
I get inspired writing stories about heroes that have to sacrifice everything. My tagline is Unleashing the Truly Heroic, and I believe that isn't necessarily having the coolest powers or strengths, but the willingness to lay it all on the line. I think that is an echo of what Jesus did for us, so whether I write outright or subtle Christian themes in my work, that is my core inspiration.
This summer I will complete my Rise of the Anointed series, a YA Christian superhero tale. What if God gave some of the amazing abilities in the Bible (Samson's strength, Elijah outrunning a chariot) to teens today to fight a rising evil? That's the premise behind Launch, Fractures, and Anointed.
On hearing from readers
I get some feedback, whether directly from the readers or from parents since I write YA (young adult fiction). It always makes my day to hear that people enjoyed what I put so much heart into. One mom shared with me that her reluctant reader asked, "There's going to be more of these, right?"
Hits you right in the feels, that does.
Tell us about your story in the Prismatic anthology
Private Teo Conte works for an intergalactic relief organization. Trained to defend himself, he's not supposed to intervene in the combat, until he sees a situation that forces his hand.
Plans for the future
After my superhero series is complete, I have a draft of a sci-fi/space opera series that is like X-men meshed with Doctors Without Borders in space. It has cool physics-based powers, space pirates, and spitfire characters. My Prismatic story is in the same universe as this series, so I'm excited to give a tease of what's possible there. Too bad stupid Disney took the perfect title for the series. *grumble*
---
This Week's Cover Reveal of Anointed!
Click the image below to see Jason's announcement about this upcoming release!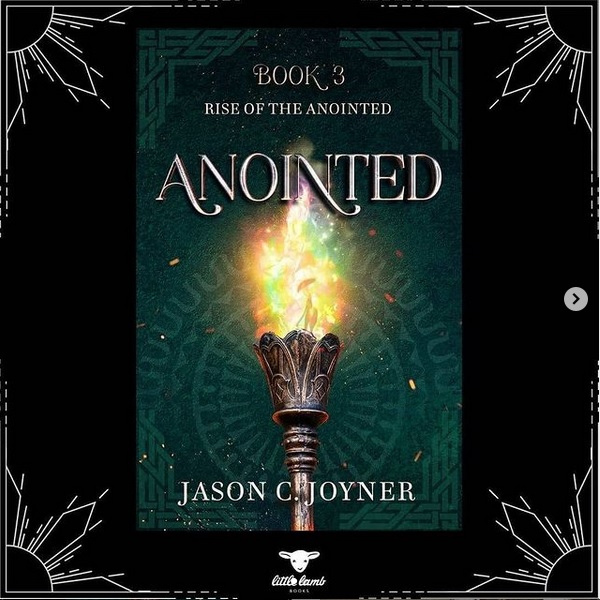 ---
Follow Jason online
Get his books at online retailers such as Amazon.com or at www.littlelambbooks.com.