Here are the songs that inspired August's stories so far… at least, the ones that have been guessed! Use the hints to sleuth out our missing songs and you might win a $10 Amazon gift card!
---
Muzzle by Abigail Falanga – not yet guessed! Hint: written by a dog's nemesis
Fire and Stone by Zachary Holbrook – not yet guessed! Hint: it's about a dragon
√ Samara Spade and the Case of the Antelope Mickey by Susan Lyttek – The Lion Sleeps Tonight (Dalia Grigorescu)
√ Ruined Boys by Brianna Tibbetts – House of the Rising Sun (Steve Baker)
√ Old-Fashioned Letters by Dalia Grigorescu -Return to Sender (cyndylil)
√ Everyone's a Henry by Charles Frierman -I'm Henry the VIII I am by Hermans Hermits (Jacqueline Frierman)
Sold Out by Daria V. Diachkova – not yet guessed! Hint: look for Russian songs about "childhood"
√ Here She Comes by Nicki Chapelway -Windy (R C)
Surf's Up by J. M. Cobb – Catch a Wave (SC Steamer) & one other song that hasn't been guessed.
Potato Panic by J. L. Ender – not yet guessed! Hint: based on a song about a sea-dwelling creature
√ Made for Her by Katie Hauenstein – Hey Jude (Florid Sword)
√ Out of Her Skin by Jenelle Leanne Schmidt  – Bitter Green by Gordon Lightfoot (Nancy Walker)
√ The Game by C. S. Wachter – Sympathy for the Devil (Susan Lyttek)
√ Tea and Sugar by Camille Murray – Duke of Earl (LJ Skelton)
An Odd Awakening, Part II: Second Genesis by Nathan Conlon – not yet guessed. Hint: the singer's last name is very sharp
Table for One by Joseph Sidari – not yet guessed. Hint: the author gives a great hint in the story's comment section
√ The Untethering of Caroline Donadeiu by Sam Shaw – She's Not There by The Zombies (R C)
---
If you were the first one to guess the song that inspired the story (your user name in parentheses) AND if you're a member of the Havok Horde, you'll be automatically entered into a drawing for a $10 Amazon gift card. Not a member yet? Join before the end of the month and you still qualify!
Like a challenge? There are still a few songs that haven't been guessed yet. Put on your detective hat and go figure it out. Horde members have access to our archives (and are qualified for the drawing).
Thanks for playing Season Two: Stories That Sing! From our jukebox to yours…
---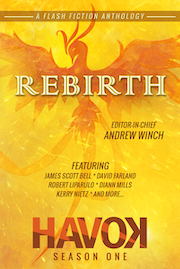 Don't forget our Season One: Rebirth anthology is available on Amazon. Read the 30 winning stories from Season One along with 16 exclusive Featured Author and staff stories!