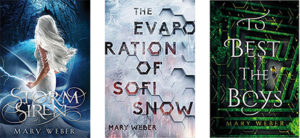 Warriors Against the Storm is a group project sponsored by Havok Publishing and Mt. Zion Ridge Press in tribute to author Mary Weber, who has made us—her army of fans and friends in the writing community—stronger and wiser in ways that even we can't fully describe.
Along with being the award-winning, multi-published young adult author of The Storm Siren Trilogy, The Evaporation of Sofi Snow series, and To Best The Boys, Mary has spent years pouring selflessly into others as a youth pastor, speaker, advocate, and writing mentor. And now it's our turn to pour into her. With this project, we will support Mary and her family as she weathers the storm that has taken her home and health through mold poisoning (if this situation is news to you, there's more info here).
---
The Fundraiser: An Anthology of Stories to Inspire
We collected submissions through March and April, and received a heart-warming amount of participation from the speculative fiction writing community. Thanks to all the authors who participated! Stories were blind-selected by quality and compatibility with the theme, and then edited by Havok Publishing's editor-in-chief, Andrew Winch. The submissions collection and editing team donated their time and expertise to this effort. The book was then formatted and published by volunteers at Mt. Zion Ridge Press. All profits from the sale of the book will go to the Weber family. If you want to help more directly, you can donate to their Go Fund Me campaign.
Now Available!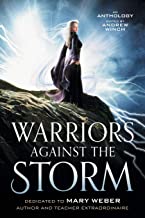 The book is now available for order in both print and ebook form.
Click the cover above to order from Amazon.
---
Project Contacts
News and discussion regarding this project can be found at the Weber's Warriors Facebook group.
For media inquiries, please contact Jeane Wynn at jeane@wynnwynnmedia.com or (918) 630-9695.
If you have questions about the contest or resources to help promote the contest and book, please reach out to the project co-chairs: Elizabeth Van Tassel at evantassel@mac.com or Lauren Brandenburg at lauren@lhbrandenburg.com.
---
Photo of Mary Weber in the page header is courtesy Sarah Kathleen Photography, via Mary's press bio.
Website hosting & design donated by