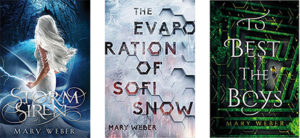 Warriors Against the Storm is a group project sponsored by Havok Publishing and Mt. Zion Ridge Press in tribute to author Mary Weber, who has made us—her army of fans and friends in the writing community—stronger and wiser in ways that even we can't fully describe.
Along with being the award-winning, multi-published young adult author of The Storm Siren Trilogy, The Evaporation of Sofi Snow series, and To Best The Boys, Mary has spent years pouring selflessly into others as a youth pastor, speaker, advocate, and writing mentor. And now it's our turn to pour into her. With this project, we will support Mary and her family as she weathers the storm that has taken her home and health through mold poisoning (if this situation is news to you, there's more info here).
So if you love Mary's stories and call yourself a writer, you can help…
---
The Fundraiser: An Anthology of Stories to Inspire
If you're a writer and want to help Mary, you can submit a story to this anthology fundraiser! All profits from the sale of the book will go to the Weber family. If you want to help but don't have a story to submit, you can donate directly to their Go Fund Me campaign.
Anthology Theme: Overcoming the Odds
Submission guidelines:
Stories should be speculative fiction (science fiction, fantasy, etc). If you want, you can include aspects reminiscent of Mary's great talent for adventure, unexpected technology, strong female and male characters, and sharp-witted humor as you write to the theme of "overcoming the odds."
This isn't fan fiction, so works that use her characters or worlds will not be accepted.
Stories must be original, complete, and previously unpublished—not excerpts of a longer work or previously published content.
Stories must be PG-13 or below, which means stay away from profanity, gore, graphic sexual content, and excessive violence. Mature themes, intense adventure, and peril are fully acceptable.
Use Havok Publishing's standard manuscript format for your submission (ignore the file naming and email formatting portion).
MS Word .doc or .docx files only. (If you use Google Docs, you can download the file in MS Word format and submit that file.)
Submission limit: No more than 3 stories per author.
Story length: 2,000-2,500 words.
The submission portion of the fundraiser ends at midnight May 4, 2020 EST.
Deadline for Submissions: Midnight May 4, 2020 EST
May the Fourth be with you!
Timeline: Stories will be selected by a team of professional editors and edited by Havok Publishing's editor-in-chief, Andrew Winch. The selection and editing team are donating their time and expertise to this effort. Participants whose stories are selected for inclusion in the anthology will be notified during the summer of 2020, at which time they will finalize edits and sign a contract of agreement for participation in the publication.
Submit Your Story
We look forward to reading your great adventure!
Project Contacts
For media inquiries, please contact Jeane Wynn at jeane@wynnwynnmedia.com or (918) 630-9695.
If you have questions about the contest or resources to help promote the contest and book, please reach out to the project co-chairs: Elizabeth Van Tassel at evantassel@mac.com or Lauren Brandenburg at lauren@lhbrandenburg.com.
News and discussion regarding this project can also be found at the Weber's Warriors Facebook group.
---
Photo of Mary Weber in the page header is courtesy Sarah Kathleen Photography, via Mary's press bio.
Website hosting & design donated by